CopierLand is a South Korea based distributor of office products with a vast domestic network and high brand awareness. We have served as the exclusive import agents for various global brands and starting in 2004 we began manufacturing our own consumable products. The integration of manufacturing into our core business also led to expansion opportunities in overseas markets.
CopierLand currently exports to over 20 countries worldwide having established its reputation as a global brand known for its premium quality and competitive pricing. CopierLand, as a global business partner, will continue to dedicate its efforts to provide high quality products and services.

Headquartered in South Korea, CopierLand is a leading provider of Professional Print Finishing Solutions. We manufacture and distribute a complete line of print finishing products including double wire binding and lamination systems. With an emphasis on innovation, efficiency, and a commitment to our customers, we are able to provide premium quality products at competitive prices. CopierLand has dedicated the past 40 years to refining and improving every facet of our operations and we continue to do so in order to establish new and higher industry standards.
CopierLand serves as both an overseas export company and a top domestic distributor of general office products and supplies. For the last 40 years, our company has been the exclusive agent for famous global brands such as IDEAL, GBC, Quartet, Rexel, Renz, CS Technology, Fastback, Superfax, and Mondi. As a prominent player in the industry, CopierLand has also released its own brand of binding machines, laminators, time attendance machines, and shredders respectively known as Probind, ProLami, Time Man, and the Sheriff.

People come
first.
CopierLand considers people as the enterprise's main core value. We approach our customers with an open mind and always consider their viewpoints.

We Foster Innovation
and Technology
We are not merely selling machinery.We have differentiated ourselves from our competitors by continually investing in research, product development, and production. We do not fear change but in fact embrace it. We are always looking for ways to offer improved products and services and develop new business opportunities for our customers

Reach the
global market
If it's made by CopierLand, it's different. Our products are exported to over 20 countries. Our quality and value is acknowledged allowing us to be recognized as a leading global brand.
We aim for
the top
For the past 40 years, CopierLand has gained awareness as a premium domestic supplier of office products, with exclusivity to many globally recognized brands. We plan on continuing on this path to be recognized as the best brand value in the industry.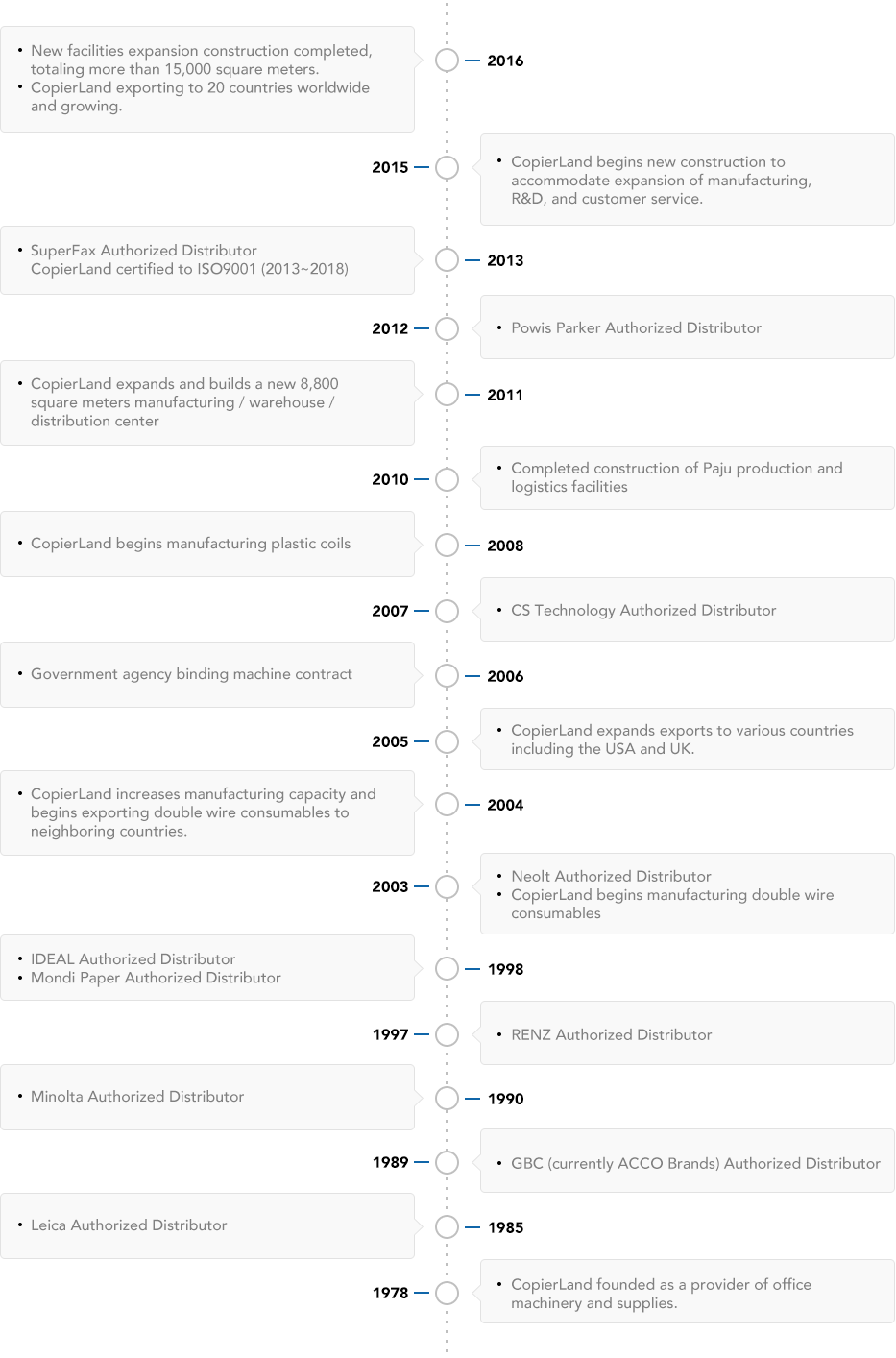 Customers
USAㅣCanadaㅣUKㅣJapanㅣChinaㅣTaiwanㅣIndiaㅣGreeceㅣSwedenㅣSaudi ArabiaㅣUAE | AustraliaㅣNew ZealandㅣSouth AfricaㅣPeruㅣVenezuelaㅣEstonia | Czech Republic | RomaniaㅣPhilippinesㅣCroatiaㅣChileㅣMalaysiaㅣSlovakia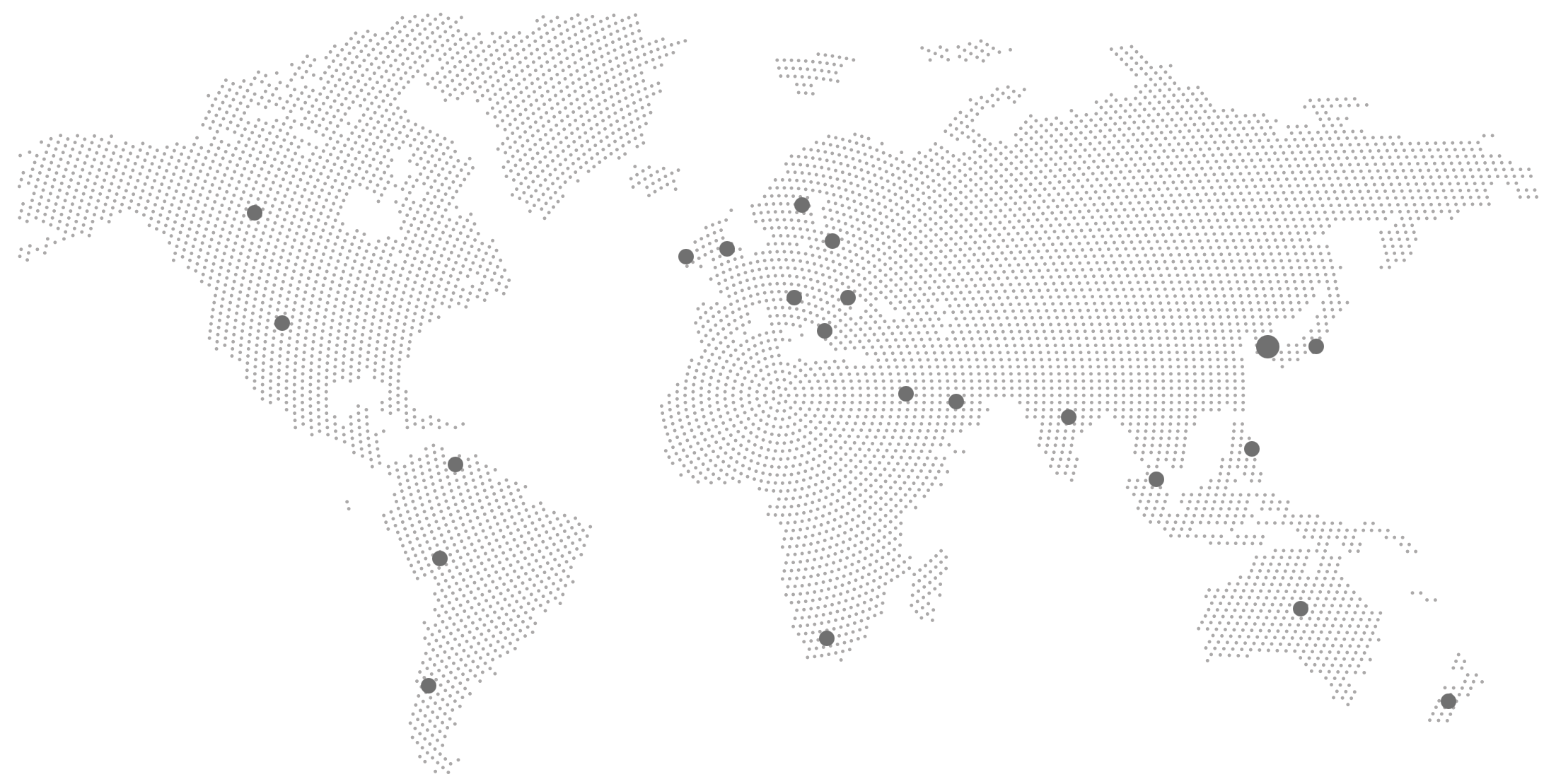 Explanation to overseas distribution network
CopierLand's well established presence and dealer network in South Korea has always been one of our core strengths contributing to our success. In 2004, we expanded this network and opened our doors to the world, exporting our binding consumables to nearby countries. For the past 12 years, our global network and market presence has been growing as our products continue to bring satisfaction to customers both old and new. So make your mark on our map and become one of our partners!