Double Wire Spools
Our Double Wire Spools are manufactured by using premium grade nylon coated steel wire in conjunction with our high performance Kugler-Womako forming machines. This combination makes our Double Wire Spools highly compatible with automated wire binding machine equipment and ideal for commercial environments.
Using our Double Wire Spools will help to mitigate those binding problems often associated with lower quality wire spools and improve operational efficiency.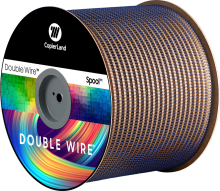 Double Wire Combs
Double Wire Combs are produced by processing our Spools into shorter standard lengths and thus share the same high quality binding properties.
Offered in various packaging sizes and a wide assortment of colors, our Double Wire Combs are bound to suit your binding needs.